Some people have been having an issue connecting to the Microsoft Store and downloading the Excel plugin. A lot of these we have found are because of the Excel build. Note that Excel can be up to date with security patches but still be behind on builds.
The add-in currently requires what is known as the ExcelApi 1.4 requirement set which is available in build 7870.2024 or later, so although you may have MSI version (4927.1000) it will not support the Excel add-in as that version is limited to ExcelApi 1.1 which lacks features used in the VTScada add-in.
Check in Excel...Account...About Excel. Make sure your build number is at least at 7870.2024.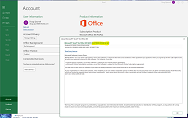 Some people have been having an issue connecting to the Microsoft Store and downloading the Excel plugin. A lot of these we have found are because of the Excel build. Note that Excel can be up to date with security patches but still be behind on builds. The add-in currently requires what is known as the ExcelApi 1.4 requirement set which is available in build 7870.2024 or later, so although you may have MSI version (4927.1000) it will not support the Excel add-in as that version is limited to ExcelApi 1.1 which lacks features used in the VTScada add-in. Check in Excel...Account...About Excel. Make sure your build number is at least at 7870.2024. ![5e3af83f95e85](serve/attachment&path=5e3af83f95e85)
edited Feb 5 '20 at 5:15 pm