I have secured my thin client link with the SSL X.509 certificate.
(I have made a new CSR request with my host+DNS name. I have validated the request from my CA & they send me the key and certificate. That I have to do Process Reply in SCADA and it successfully proceeded. I have added the SSLCertName property in my APPRoot file and restarted the application and ticked the SSL (443 port) option after in the ThinClient configuration. Also, export certificates from the local machine to the current user with a private Key and give access my user to access this certificate from the MMS console)
& I updated the Host file of my machine and point it out to my IP & DNS records.
After that my ThinClient link got secured and works fine on my machine.
This link I want to share this with my colleagues in a team but they are not able to access this link currently as my machine in which the SCADA application is running is not yet hosting anywhere.
I want to make it host for public internet. I have control access to users after.
How can I do that? Which steps do I need to follow to access the ThinClient link on the public Internet from anywhere?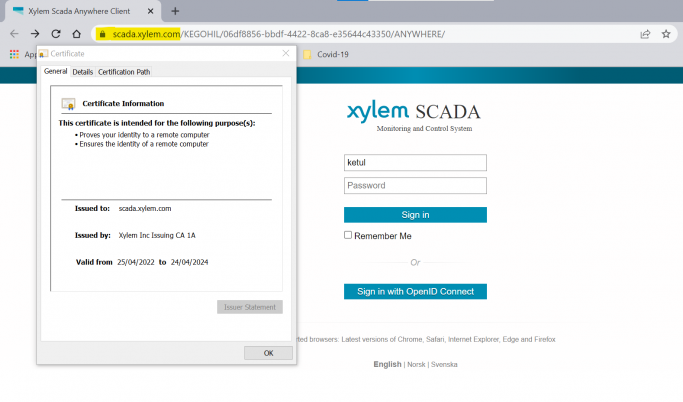 I have secured my thin client link with the SSL X.509 certificate. (I have made a new CSR request with my host+DNS name. I have validated the request from my CA & they send me the key and certificate. That I have to do Process Reply in SCADA and it successfully proceeded. I have added the SSLCertName property in my APPRoot file and restarted the application and ticked the SSL (443 port) option after in the ThinClient configuration. Also, export certificates from the local machine to the current user with a private Key and give access my user to access this certificate from the MMS console) & I updated the Host file of my machine and point it out to my IP & DNS records. After that my ThinClient link got secured and works fine on my machine. This link I want to share this with my colleagues in a team but they are not able to access this link currently as my machine in which the SCADA application is running is not yet hosting anywhere. I want to make it host for public internet. I have control access to users after. How can I do that? Which steps do I need to follow to access the ThinClient link on the public Internet from anywhere? ![628db0ac9d963](serve/attachment&path=628db0ac9d963)